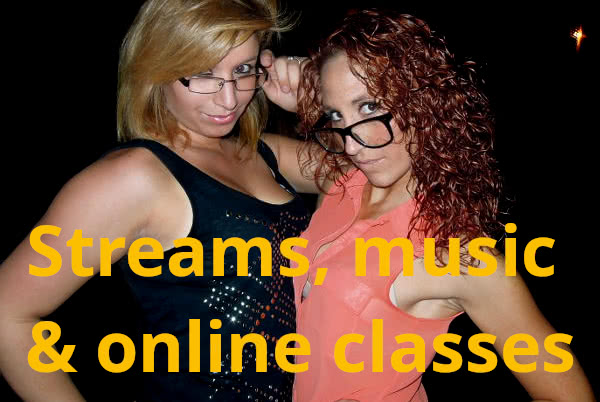 Because of the corona virus, public life is at a standstill and many are bored at home and would like to dance more or make better use of their time. Thanks to the creativity of many artists there is an incredible offer of private streams at the moment. Especially on the weekends it explodes. Many artists are online with streams! dancing classes, concerts, live Dj sets and much more!

At this point I will give you tips on links and streams. Have fun. #StayAtHome


Music:
Streams
Bersy Cortez streams on Facebook and  Instagram. Wednesday at 17.00 (cet) starts her new class! First lesson for free!


Rodrigo Cortazar stream on Facebook and Instagram. His classes can been seen also days later!


Joaquin Arteaga, the bandleader and percussionist of Tromboranga, is online almost daily with musicality and percussion workshops at Instagram. He has a lot of musicality and background knowledge. People like to listen to him and he is a master of his craft!


Noelia Delgado (at Instagram and Facebook) is always online on Tuesdays and Thursdays, always from 19.45. o'clock. After one month she now has a small fee for the course, but it is more than fair (6 courses together for 12 Euro), especially when you see how good her courses are. Just the warm-up alone is already great. Afterwards there is a nice footwork combination (Footwork, Cubaneo as well as Salsa Musicality) on 1 or 2! There is always time for questions & answers in Spanish and English! If you want to join in, write her a message and get the invitation to the new facebook group.



Lyna Quinteroduque gives Zumba classes every Tuesday and Thursday from 18-19. On Wednesdays at 12 there is a fitness course. All on Instagram and Facebook.. It's a lot of fun


Fadi Fusion is live on Instagram at least twice a week. Often in the afternoon from 16 o'clock. You can send him the learned steps and participate in the challenge.


Alain & Eve (Alain Dejatellevar) is the brother of Dustin Richie and both teach in Valencia) stream almost every day! Often from 16 o'clock, sometimes from 18 o'clock. Mostly they teach very nice Bachata, but also Salsa!


Dani J was online on Sunday three weeks ago, with an acoustic live concert. Almost two hours of beautiful music. The concert is still available on his Facebook page: Dani J live from home. He also is live at leat once a week on Instagram!


Sasha Phillips, an incredibly good dancer from London will start her Instagram-Salsa-Challange tomorrow afternoon. It's all about footwork, lots of styling, Afro and Rumba and of course fun dancing. Sasha on Instagram.. The videos are also available offline!


 

Ataca und Alemana are always live with online courses at Instagram in the late afternoon.
Ronald & Alba are always live with online courses at Instagram in the late afternoon.
Maykel Fonts is occasionally at Instagram and answers questions
Fernado Sosa is mainly at Instagram on weekends (so far always Sundays) from 5 pm.
A special highlight are the 6 hours Cuban free course in the Facebook group: Free of charge - Cuban Salsa in Corona times
Daniel and Desiree are online several times a week. Sometimes also with the sweet child :)
It's worth to follow his stars at Instagram: Juanes, Shakira, J Balvin (also Miley Cyrus) are always live.
Carmen Vega is more often Instagram with Modern Dance online. Often around lunchtime.
Pablito Y Su Mezcla Latina is regulary live on Instagram
For the spanish speaking people I have a special candy. Former radio presenter Fernando Quintero has an excellent and very in-depth podcast series online, where in each (mostly) 30min, one person and the background is covered. Very entertaining and above all very informative. A part is on Youtube, but in fact most of the episodes are here: Speaker: La Salsa En Su Punto (tap "more" several times below, there are about 100 episodes!) The corresponding Twitter account: La Salsa En Su Punto..