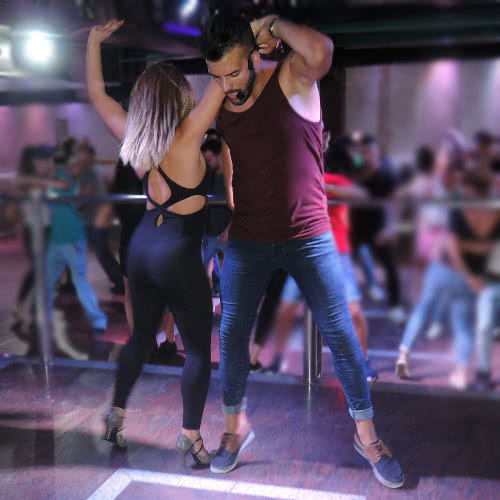 At the moment I am in Malaga at the Costa Del Sol and I am listening to a lot of new music. Here in Malaga you will find, like in every big spanish city, every night lots of different Latinpartys and of course a lot of very popular DJs. The DJs here know exactly whta to play, the competition is really high, so every DJs knows about the new stuff as well as the old classic and the very dancable tunes that fill the dancefloor in a second.
I will publish some articles under the tag Summer 2017 in this blog about the dancescene here and the actual trends. I would ilke to start with the actual Bachataplylist.
Playlist Bachata 2017
The stars indicate how popular a song i right now. 5 stars means, that the song is played every night.
Romeo Santos - Imitadora *****
Ozuna - En La Intimidad ****
Miriam Bryant - Ett Sista Glas (ein früher Song von DJ Tronky) *
DJ Luian & Mambo Kingz & De La Ghetto Feat Arcangel, Ozuna & Anuel AA - La Ocasion***  
Kewin Cosmos - Evidencias ****
Grupo Extra (feat. Daniel Santacruz) - Volvieron a Darme las 6*****
Jeremih - Birthday Sex****
Grupo Extra Feat DJ Khalid - Quiero Un Beso
Grupo Extra - Bailemos 
Alejandro Fernández Feat Héctor Acosta "El Torito - Se Me Va La Voz
Daniela Andrade - Crazy (Norwood & Hills Remix) 
Prince Royce & Shakira - Deja Vu ***
Dustin Richie - Bachata A Lo Loco *** 
Dani J - Traición***
Destiny's Child - Say My Name (alt, aber taucht gerade wieder Mal auf)
Elliot Moss - Slip ***
Charlie Puth - See You Again (DJ Soltrix Bachata Remix) **
Maluma - Felices los 4 (Version Bachata Dj Khalid) ***** 
LP - Lost On You (DJ Tronky Bachata Remix) *** 
Shakira - Chantaje ft. Maluma *****
Dj Lagos Don Miguelo - A Pesar De La Dema (2014) **
Dani J - Quiero Hablarte *** 
Jean - Can't Find Love **
Maluma (DJ Tronky) - Sin Contrato ***
Nicky Jam (DJ Tronky) - Hasta El Amanecer *

Bishop Briggs - River **

Ephrem J - Cuando Se Acaba El Placer ** (einer der wenigen traditionellen Bachatas, allerdings mit "Schlagerharmonien" und Geigen (!))
Dani J - Amor Eterno **
Dani J - Tan Lejos De Mi **

Don Omar - Me Muero
Prince Royce - Te Necesito
Kewin Cosmos - Evidencias **
Cosculluela & Brytiago & Arcangel & Ozuna Y Almighty - Me Ama Me Odia **
Romeo Santos Feat. Swizz Beatz - Premio**
Jr. - Desnúdate
Mario Baro - Te Quiero
Danny-D Xtreme - Your Love

Bishop Briggs - River (DJ Alejandro Bachata Remix)
El Joey - Sigo Aquí 
Oub LCK - Suenos Mojados
A Rose Jackson, D.R, Grupo Extra, Lotus, Lotus, Sonic Acoustics, Pitbull - When I'm With U