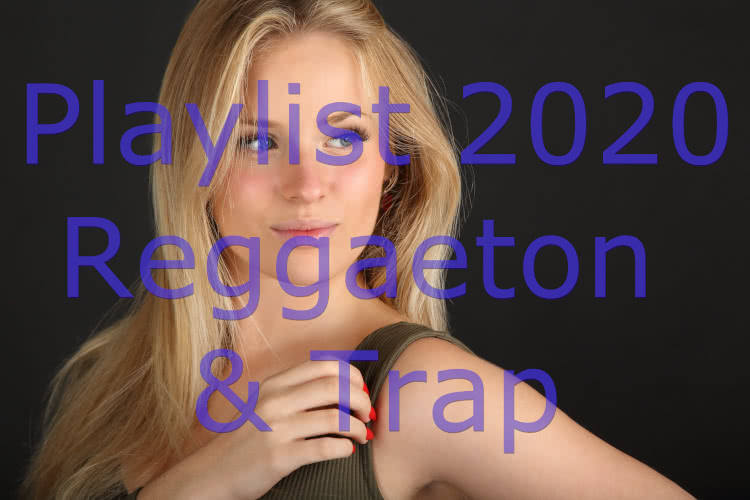 Reggaeton will also be a big trend in 2020! In Spain it will have replaced Spanish pop music in 2019. There are still many new releases.  The style itself is about to change and I guess there will be a split in two or three directions.

I haven't noticed so much of new Trap recently. Should this trend already come to an end? It seems that some Trap artists are now moving from trap to reggaeton (for example Bad Bunny). There is a mixture of the two styles which will maybe speed up the Reggaetonsplit into the harder and softer type.
As always, send me your comments and advices on good new music. You can contact me via Facebook or email. 
Reggaeton-Playlist 2020:
Aazar (Ft Swae Lee & Tove Lo) - Diva
Abraham Mateo, Yandel, Jennifer Lopez - Se Acabó el Amor (Urban Version)
Alex Sensation, Anitta, Luis Fonsi - Pa' Lante
Anitta & J Balvin - Downtown
Anuel AA, Daddy Yankee, Karol G feat. J Balvin, Ozuna - China
Arcangel & Bad Bunny - Infeliz (Historias de un Capricornio)
Arcangel & Sech - Sigues Con Él [
Bad Bunny & Tainy - Callaita
Bad Bunny - Vete
The Black Eyed Peas, J Balvin - Ritmo (Bad Boys For Life)
Casper Magico & Anuel Aa - No Te Veo (Remix)
Chocolate - Tremendo Prende
C. Tangana & Paloma Mami & Alizzz - No Te Debí Besar
Daddy Yankee - Que Tire Pa Lante
Daddy Yankee & Rkm & Ken-Y & Arcangel - Zum Zum
Dalex - Hola
Dj Snake & J. Balvin & Tyga - Loco Contigo
DJ Snake, J, Balvin, Ozuna, Nicky Jam, Natti Natasha, Darell & Sech - Loco Contigo (Remix)
Efe Rivaz Ft Utopiko - Roxana
Eladio Carrion & Zion - Mi Error
J Balvin - Blanco
J Balvin - Morado
J Balvin - Yo Te Lo Dije
J Balvin & Bad Bunny - La Canción
Jose De Las Heras & Ghetto Flow - Culo
Justin Quiles, Nicky Jam, Wisin - Comerte A Besos
Karol G - Bebesita
Karol G & Nicki Minaj - Tusa
Lola Indigo - Ya No Quiero Ná
Lunay Ft. Ozuna, Anuel AA - Aventura
Major Lazer, J Balvin ft. El Alfa - Que Calor
Maluma - El Perdedor
Maluma & J Balvin - Qué Pena
Manuel Turizo & Anuel Aa - Te Quemaste
Mozart La Para feat. Justin Quiles - Mujeres
Mozart La Para, Justin Quiles, Farruko, Jowell & Randy - Mujeres (Remix)
Myke Towers Ft Farruko & Zion & Arcangel & Sech - Si Se Da (Remix)
Natti Natasha & Bad Bunny - Amantes De Una Noche
Natti Natasha - Era Necesario
Nicky Jam & Anuel Aa - Whine Up
Nicky Jam & Daddy Yankee - Muévelo
Noriel & Manuel Turizo - No Te Hagas La Loca
Ozuna - Fantasía
Ozuna, Dalex, Nicky Jam - Reggaetón En Paris
Ozuna - Te Soñé De Nuevo
Paulo Londra - Y Yo No Sé
Pitbull, Farruko, El Micha - Mucho Booty
Pitbull, Ne-Yo ft Lenier, El Micha - Me Quedaré Contigo
Plan B & Natti Natasha & Daddy Yankee Feat. Rkm & Ken-Y & Arcangel - Zum Zum (Remix)
Rasel Feat. Nyno Vargas - Candela
Reik & J Balvin & Lalo Ebratt - Indeciso
Sak Luke & Mozart La Para - Tu Perro
Sebastián Yatra & Mau Y Ricky & Farruko - Ya No Tiene Novio (Remix)
Shakira Ft. Anuel AA - Me Gusta
Steve Aoki & Maluma - Maldad
Tainy, Anuel AA, Ozuna - Adicto
Tainy, Dalex, Alvaro Diaz - Mera
Thomaz - Al Natural



Latin Trap - Playlist 2020
Arcangel & Myke Towers - Memoria Rota
Bad Bunny - Amorfoda
C. Tangana & Duki & Neo Pistea Ft Polima Westcoast - 5 Stars
Nio Garcia & Casper Magico & Anonimus & Miky Woodz - Castigo (Remix)
Yandel Ft Bad Bunny - Explicale