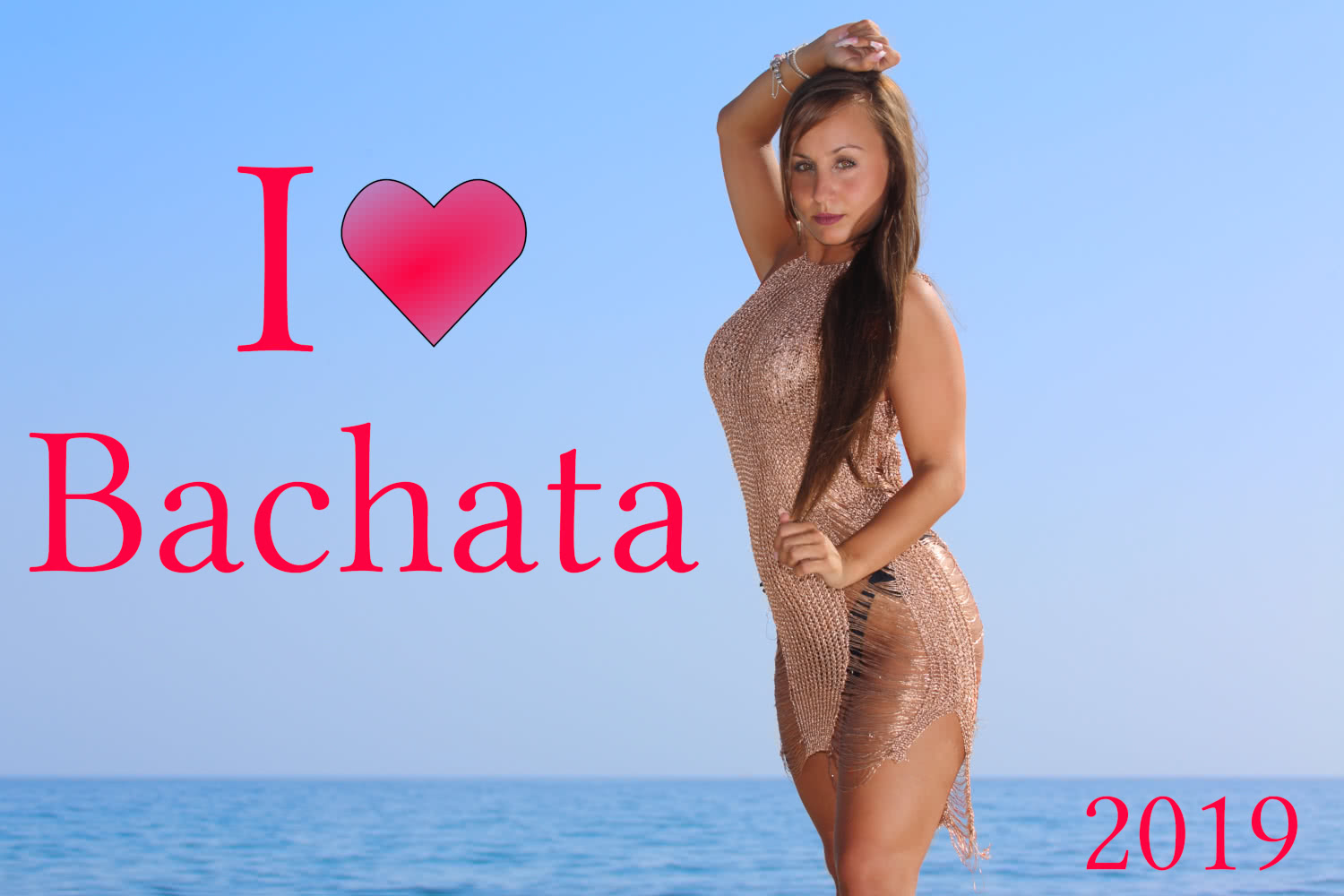 I would like to present you again the new and newly discovered Bachatas from this summer in a playlist.
Like every year, I publish my playlists twice a year. Most of the tracks are new titles, but there are also some older ones,that I may have discovered or really liked this year. Hope you enjoy them as much as I do.
Have fun listening and dancing!

Dennis Bischi has created a playlist with the best songs: Playlist Bachata at Youtube; Playlist Bachata at Spotify.
Playlist Bachata Summer 2019
Alesso (ft Roy English) (DJ Soltrix) - Cool

Alex ft Sierra (DJ Alejandro Bachata) - Animals

Alexandre Pires - Traicionar Es Bueno Pero Es Pecado

Alexandre Pires - Usted Se Me Llevó la Vida

Angel Y Khriz - Ven Bailalo (Bachata-Merengue-Reggaeton-Bachata)

Anthony Santos & Dustin Richie - Vete Aléjate De Mi (Von Dustin direkt)

Antonio José (Dj Khalid) - Tu Boca

Aventura - Yo Quisiera Amarla

Bachata Heightz ft 24 Horas - No Te Dejo De Pensar

Bachata Heightz ft Circharles - Era Mentira

Bazzi (DJ Tronky) - Beautiful

Bea J ft Dani J - Desátame

Becky G & Paulo Londra (DJ Rash Paris) - Cuando Te Besé

Bori - Basta Ya

Bori - Saborearte de Nuevo

Bustamante, Ana Guerra - Desde Que Te Vi

Calvin Harris (DJ Alejandro) - Promises

Camilla - Alejate De Mi

Camilla (DJ Tronky) - Havana

Carlos Rivera (Dj Khalid) - Como Pagarte

Christian Daniel - Ahora Que Te Vas

Conor Maynard (DJ Tronky) - Elastic Heart (Love Me Like You Do)

Cosimo ft Dimen5ions, DJ Alejandro - Sentidos

Cosimo, Dimen5ions, DJ Alejandro - Tuyo

Dani J - Bailemos Despacio

Dani J - Me Derrumbo

Dani J - Mi Maldición

Dani J - Sin Tiy

Dani J - Superstición

Dani J - Todo No Es Casualidad

Dani J ft Korke y Judith - Bachata Sensual

Dani J ft Xriz - Aire

Dani J, Manny Rod - Tú o Yo

Daniel Santacruz - Batalla Perdida

Daniel Santacruz - Casablanca

Daniel Santacruz - Rápida y Furiosa

Daniel Santacruz & Mario Baro - Tropical

Daniel Santacruz, Ephrem J - Mi Canción Perdida

Dj Bernardo & Luis Fonsi - Dime Que No Te Irás

DJ Khalid - Cásate Conmigo

Dj Khalid - Tu Boca

Dj Khalid & Loukas - Las Pulseras Del Verano

DJ Snake ft Selena Gomez, Ozuna & Cardi B (DJ Tronky) - Taki Taki

DJ Tronky - Speechless

DJ Tronky ft Stefano Syzer Germanotta - Calma

Domenic Marte - La Quiero

Dustin Richie - Felicidades

Dustin Richie - Sed De Ti

Ed Sheeran (DJ Selphi) (ohne Beyoncé) - Perfect Duett

Ed Sheeran & Beyoncé (Dj Husky & Dj Quique) - Perfect Duet

Ed Sheeran & Justin Bieber (DJ Tronky) - I Don't Care

El Chaval - Donde Estan Esos Amigos

Eleni Foureira (Ryan Miles) - Fuego

Elvis Crespo ft Bachata Heightz - Tatuaje

Ephrem J - Quiero Que Regreses

Ephrem J - Tu De Que Vas

Ephrem J & Dani J - Loca

Esme - Amantes

Fantine - Bachata De Rosa

Fran Rozzano - Que Lo Nuestro Se Quede Nuestro

Grupo Extra - A Traves del Vaso

Grupo Extra - Hoy Se Bebe

Grupo Extra - Quiereme un Poquito

Jay Ramirez & Kewin Cosmos - Elige

Jeyro ft Maykel - Solo Tu

Joel Santos - Si Esta Casa Hablara (lange Version)

Joel Santos - Si Esta Casa Hablara

Johandy - Y Si Te Vas

Juan Luis Guerra - Bachata Rosa (Live)

Juan Luis Guerra 4.40 - Kitipun

Ken-Y (Dj Manuel Citro) - Como Lo Hacia Yo

KenY - Sentirte Mia

Kewin Cosmos - Sin Censura

Kewin Cosmos (DJ Tronky) - Drama

Kewin Cosmos Feat. DJ Manuel Citro & DJ York - Como Los 's 90s

Kewin Cosmos ft Ataca & La Alemana - Calma

Kewin Cosmos, sP Polanco - Amame Matame

Klas 3 - Bandolera

Lady Gaga (DJ Cat) - Always Remember Us This Way

Las Ovejas Negras - El Cuarto Vacio

Lirow - Consejo De La Calle

Lirow - La Carta

Lirow - Mirame

Lirow - No Me Olvides

Lola Jane - Kiss Me

Los Rebujitos - Acércate Lento

Maki ft María Artés (ft María Artés) - Bailemos

Maluma (DJ Tronky) - Sin Contrato

Maluma (DJ Tony Pecino) - 11 PM

Manny Rod - Como Mirarte

Manny Rod - Saciemos Las Ganas

Manuel Carrasco (Dj Bernardo) - Llamame Loco

Mario Baro - Bailar Contigo

Maroon 5 ft Cardi B (DJ Tronky) - Girls Like You

Migz - Orgulloso De Ti

Molly Sandén & Newkid - Utan Dig

Mr Don - Cadenas

Mr Don - Mi Praxis

Mr Don - Vete

Mr Don & Johandy Ft Dj Khalid - Amigos Con Derechos

Mr Don & Lirow - Mala

Mr Don ft Dj Khalid - Hookah & Sheridan's

Nati Hen & DJ Alejandro - Cuando Te Bese

Opalo - Ayer

Ozuna - Oye Cómo Va

Pedro Capó ft Farruko - Calma (Reggae-Bachata (Rechata) Remix by DJ Ramon)

Prince Royce - Dulce

Prince Royce - Me Encanta

Prophex - Dinero o Amor

Prophex - I Will Make Love To You (Boyz II Men)

Prophex Ft Alexandra - Te Enamoraste.Wav

Rey Chavez (ft Daniel Santacruz) - La Luz de Tu Mirada

Romeo Santos - Canalla

Romeo Santos - Centavito

Romeo Santos - Perjurio

Romeo Santos & El Chaval De La Bachata - Canalla

Romeo Santos & Elvis Martinez - Millonario

Romeo Santos & Frank Reyes - Payasos

Romeo Santos ft Aventura - Inmortal

Rosalía - Malamente

Rotem Cohen ft Descemer Bueno - Como El Agua

Ryan Miles - Flashlight

Shawn Mendes, Camila Cabello (DJ Tronky) - Señorita (DJ Tronky)

SP Polanco (ft Karlos Rosé) - Entre Los Dos

SP Polanco (ft Pinto Picasso) - Man Overboard

SP Polanco ft Kewin Cosmos - Amame Matame

SP Polanco, 24 Horas, Mickey Then, Joell - Preguntando

Toby Love - Amor Primero

Toby Love ft Bachata Heightz, Kewin Cosmos - Reflejo

Trevor Wesley - Chivalry Is Dead

Vicky Corbacho - Obsesión (Tan Solo Con Tu Amor)

YuliaN - Cuando Te Bese