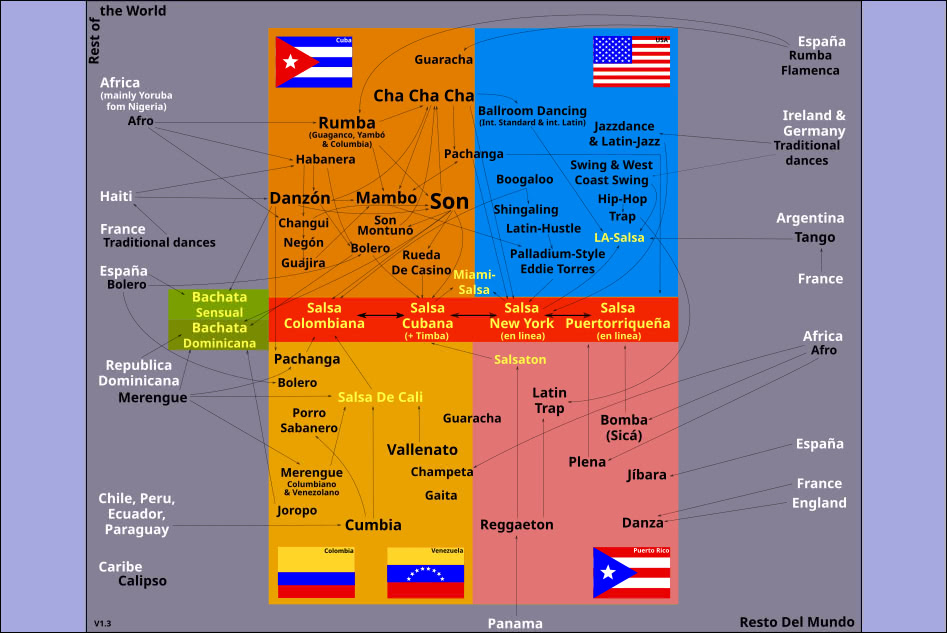 When you take your first dance lesson you might learn about the origins of Salsa and Bachata and maybe even something about other dances. Many beginners know that Salsa comes from Latin America and that it has roots in Cuba. For most dancers this knowledge is sufficient. If they continue to learn they will come across Mambo, Rumba, Cha Cha Cha and also New York Style or Pachanga. But I promise you, there is a lot more to discover.

I created a graphical chart of the different connections to give you an overview and better explain this. I based my research on a lot of sources. The boundaries between rhythm, dance, instruments and musical style are not always clear. Especially in traditional music there is a flowing transition. Although there are a few exceptions (such as the basic rhythm of the puerto rican dance "Bomba", which is called Sicá).
The complexity of the human brain and its creativity is infinite. People constantly create something new by mixing things together (called fusion). This applies to music and dance too. It is almost impossible to trace Salsa and Bachata back to every root and identify it, so my graphic below is only an initial overview.
I myself learned a lot about these connections and hope my overview is as truthful as possible. I am looking forward to your feedback.
Origins of Salsa & Bachata and the Relationships of Latin American Rhythms and Dances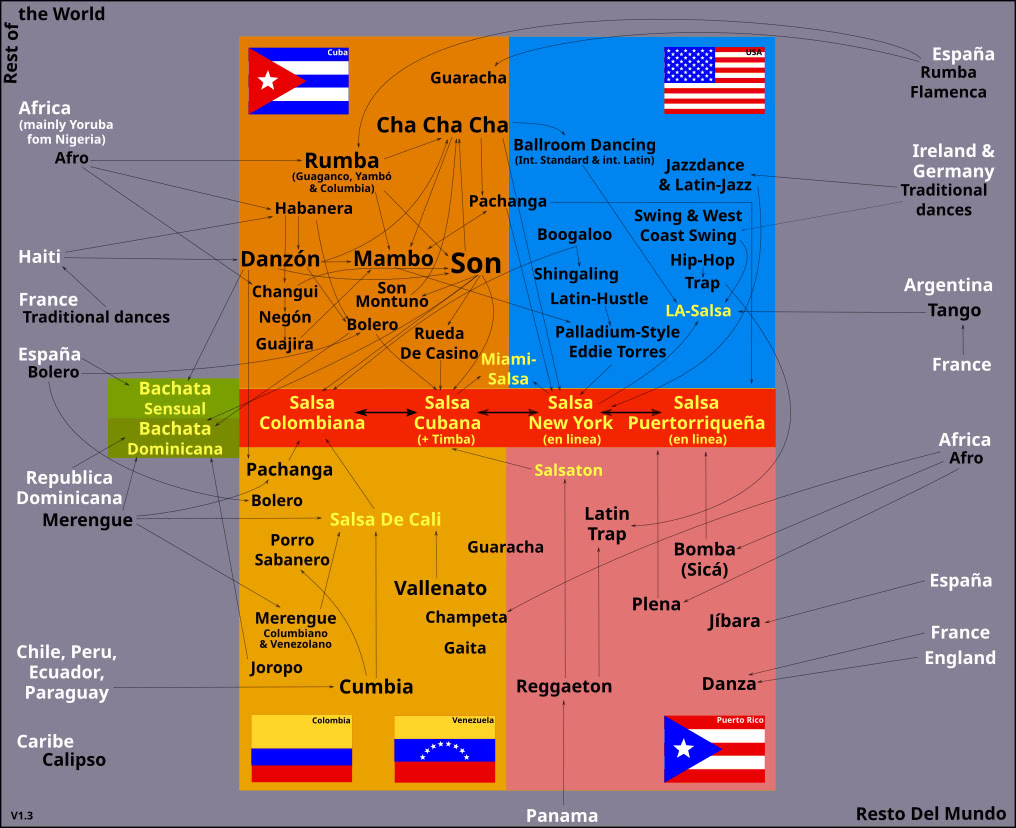 Origins of Salsa & Bachata and the relationships of latin american rhythms and dances
(click image to maximize)


As you can see, the roots of today's Salsa are very diverse and sometimes so blurry that we are unable to reconstruct the whole picture. The rhythms and dances of the Yoruba people, an African tribe, have made a big contribution. Further influences are Son, Danzon and Cha Cha Cha, which themselves have European influences. If you want to read everything in more detail, I recommend the below articles about Salsa in English, German and Spanish language on Wikipedia (can be translated with Google or Deepl.com):
Overview: Rhythms of the Caribbean:
Rhythms and dances of Cuba
Nueva Trova Cubana
Pachanga
Rumba
Salsa
Bolero
Chachacha
Changüi
Danzón
Guaguancó
Guajira
Guaracha
Habanera
Mambo
Merecumbé
Punta
Punto cubano
Son cubano
Son montuno
Timba
Rhythms & dances of Colombia
Popular rhythms of Colombia
Cumbia
Cumbión
Paeaíto
Gaita
Paseo sabanero
Son Sabanero
Bullerengue
Mapalé
Maestranza
Puya
Porro tapao
Porro palitiao
Fandango
Parrandí
Sambapalo
Pajarito
Chandé
Garabato
Tambora
Pilón
Paseo vallenato
Son vallenato
Puya vallenata
Merengue vallenato
Canción Vallenata
Paseol
Abozao
Sexteto
Son Negro
Son Palenque
Lumbalú
Chalupa
Merecumbé
Pompo
Rhythms of the Pacific Coast of Colombia
Currulao
Patacoré
Berejú
Aguabajo
Makerule
Pango (auch Pangora)
Andarele (auch Amanecer)
Madruga
Tiguarandó
Saporrondó
Calipso Chocoano
Tamborito Chocoano
Juga
Caramba
Pregón
Bunde (auch Chigualo)
Alabao
Salve
Arrullao
Villancico
Romance
Danza
Contradanza
Polkas
Mazurka
Jotas
Makerule
Contradanza

Rhythms from the Andean Region in Colombia
Bambuco
Torbellino
Guabina
Rajaleña
Sanjuanero
Guaneña
Bunde tolimense
Caña
Cañabrava
Vueltas antioqueñas
Fandanguillo criollo
Pasillo
La Danza
Danza criolla
Música guasca
Bunde
Pasillo
Rhythms of Llanera (Orinoquía)
Joropo
Galerón llanero
Zumba-que-zumba
Pasaje
Seis 
Rhythms & Dances of Venezuela
Salsa
Merengue
Vallenato
Joropo
Gaita
Balie de Tambor
La Changa / Changa Tuki
Tamborera
Bambuco Andino
Calipso Guayanes
Aguinaldo (Xmas)
Other rhythms
Champeta
Calypso
Reggae
Guaracha
Vals Criollo
Currulao
Bambuco
Tamborito
Tamborera
Murga Panameña
Bolero Criollo
Salsa Criolla
Décimas
Pasaje
Official translation by Meri Jankuloska (german to english)