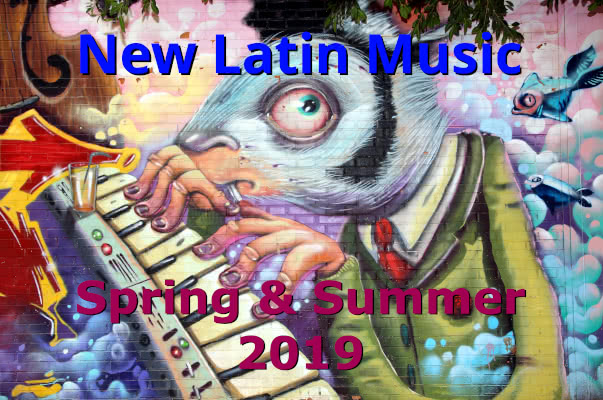 In springtime, especially in late spring, a lot of new publications come out every year, which partly dominate the whole summer and the dance scene. I'm very happy to see that this year, instead of only single hits, the big stars have released a lot of new albums again. What's striking is that the "usual suspects" (e.g. Marc Anthony & Gente de Zona) habe already released very good music and aim to have maybe one of the big summer hits!
Also Enrique Iglesias and Luis Fonsi have already released new albums in February and may even release a summer hit in June.
I will update this page if necessary, so check it out again!
 
New Latin Albums 2019:
Marc Anthony - Opus
A really good album from the old master, who once again proves everyone, what is possible with a good orchestra and good song ideas and at the same time top production. Marc Anthony hadn't released an album in 6 years. This has finally been corrected! The album has landed in the American Latin Billboard charts within two weeks on number two!
First singles are released with videos: Parecen Viernes & Tu Vida en la Mía. But I'm sure there's more to come!
Romeo Santos - Utopia
The fourth solo album of Romeo Santos. More traditional than the previous ones, with many guest musicians and very beautiful traditional, but nevertheless modern Bachata. The candy is the single "Inmortal" together with Aventura, who already has well over 100 million views on Youtube alone. A very big success (in the American Latin Billboard charts up to number 6), which also shows that not only Bachata remixes are popular.

 
Gente De Zona - Otra Cosa
Finally an album by Gente De Zona. The masters of Cuban party music with hints of Timba, Reggaeton and Spanish Pop have so far attracted attention through frequent and successful collaborations with other musicians and summer hits. Now an entire album. It's very entertaining and makes you feel like summer!


Juan Luis Guerra Y 4.40 - Literal
At the end of the month, the album "Literal" by the old master of Bachata, who has been active for the longest time of all the above mentioned, is expected to be released. With the single "Kitipún" he made us very curious about the coming.


DJ Ricky Campanelli
The Canadian published "Échale Madera" together with Jimmy Bosch. It is already the second collaboration between the two musicians. The piece combines modern Mambo with acoustic guitar and Timba elements. And of course the trombone by Jimmy Bosch - simply top notch. An album will follow soon!


Maluma - 11:11am
Maluma has a crazy success. He has worked with so many musicians in recent years that it is really impressive. Everybody wants him! (among others Elvis Crespo, Yandel, Ricky Martin, Marc Anthony, Romeo Santos, Enrique Iglesias, Shakira, Madonna, Piso 21, Prince Royce , Thalía, Don Omar, Carlos Vives, Karol G, Becky G, Reik, Arcángel and many more).
Every time there were big hits. Now a new solo album (the fourth), which consists mainly of reggaeton, but it is very well done and I really like it. Every Title has good production and musicwise good ideas, which is sometimes hidden by the attitude and the reggaeton. Listening is worthwhile.


Rubén Blades - Paraíso Road Gang
After a very successful tour with a big band last year, Rubén Blades first released a live album (Una Noche) and now an entire studio album. I haven't heard it yet, but I'm very excited about it. There's very little that can be compared to him and last year's concert just blew me away! Even today you can still get a glimpse of the past Fania feeling. Fabulous!


Bad Bunny - X 100PRE
The American billboards are currently led by Bad Bunny's current album "X 100PRE". I haven't heard it yet either. But it's amazing that this guy is so successful. His trap and lyrics are important for a whole youth generation.


Karol G - Ocean
Not yet listened to. Reggaeton!


Farruko - Gangalee
The Puertoriccan Farruko is known for his Salsaton and Reggaeton and has released this far seven albums since 2010. He has also collaborated with many other musicians. I don't know the new album yet, but Farruko makes good music for me and I'm sure it will be stunning. I have to listen to it :)
 
Ozuna - Nibir
Ozuna's third album will be released this weekend.  His first two albums (Aura and Odisea) are still in the American Top10 of the Latin album charts and produced lots of hits and good danceable music. I'm looking forward to the new album "Nibiru".



Issac Delgado - Lluvia y Fuego
The Cuban's new album was released on 24.5. Very worth listening to!

 
Alain Perez, Mayito Rivera & Alexander Abreu - A Romper El Coco
A mix of traditional cuban music: Cha Cha Cha, Son, Bolero, Mambo and many more. Good music, for sure!

 
Elito Reve & Los Van Van - De Revé a Van Van: Dos Leyendas (Live / En Vivo)
This Concert is really stunning. Two cuban legends united, play a very cool setlist. Big fun!
Papucho y Manana Club - Pa´Cualquiera
I havn't heard it yet, so I cannot comment it.
 
Already released in the first quarter of 2019:
Barbaro Fines y su Mayimbe Orquesta - La frontera (January 2019)

Maykel Blanco y su Salsa Mayor - Que Tiene Que Te Mueve (April 2019)
Enrique Iglesias - Best Of (Feburary 2019)
Luis Fonsi - Vida (Feburary 2019)