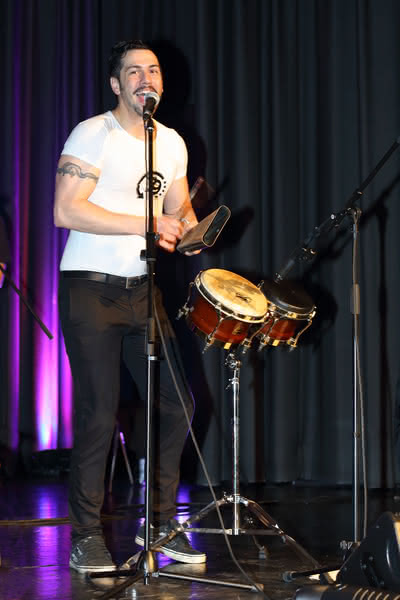 I feel very honoured that I had the pleasure to interview Fabrizio Zoro about his life as a musician and bandleader of his very successful Orchestra "La Maxima 79" and his career as an excellent and worldwide renown DJ. The many hits of La Maxima like "Pobrecita", "La Gripe" or "Mi Chula" are worldwide successes.
While the band is busy rehearsing I am meeting Fabrizio on a rainy Saturday night in Milan. Fabrizio is very professional but despite his great success, incredibly humble and down-to-earth. He revealed a lot about himself as a bandleader and DJ, his projects and about his private life. He even let us in on a couple of secrets and who his biggest inspirations are and his favourite bands. 
But read for yourself and get to know one of the important and influential characters of todays Salsa Music.
Hi Fabrizio! Thank you for taking the time for an interview with us. We know that you are the musical director of La Maxima 79 as well as a successful Salsa DJ in Europe, you must be a very busy man.
Thank you very much, likewise it is a pleasure to talk to you about this dream, that was born in Italy eight years ago.
Let's talk first about you and your life. Please tell us where you were born, how old you are and why your name Zorro is?
I was born in the north of Italy in 1979. My actual name is Fabrizio Zoro with one 'r'. However one day my best friend started calling me El Zorro when I was dressed in black with my moustache and  I looked like Zorro, the fictional character.

Tell us about your beginnings in Latin music.
It all started with a girlfriend. I began dating a national ballroom champion who taught private lessons in Salsa and Merengue in London (Bachata wasn't danced much and made the dance floor empty). At the time I was in love with house music, but occasionally she dragged me along to Latin events. Believe it or not, I didn't like it at first. But little by little it started to become my drug. Eventually when our relationship finished, I ended up going to Latin clubs seven nights a week and she continued dancing to House Music, haha.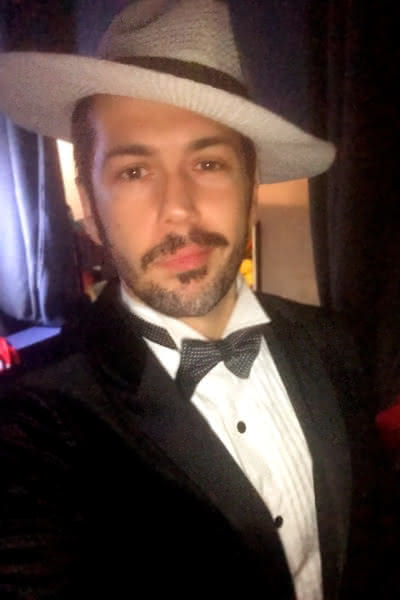 How did you become a musician?
Musician is a very big word. I approached music for the first time by doing a class at a Salsa Congress with bassist Rodolfo Guerra, in which he taught us the basics of the Conga. There I fell in love with it and started taking private lessons with him.


As a musician, which instrument do you most identify with? Or which one is your favourite?
I play bongos and the cowbell, but the instrument I always loved the most is the Piano.


Do you like Salsa Romántica?
I like any Salsa genre including Cuban Salsa, but I was born in the 90s so if I'm going out to social dance then Salsa Romántica is the one I like the most.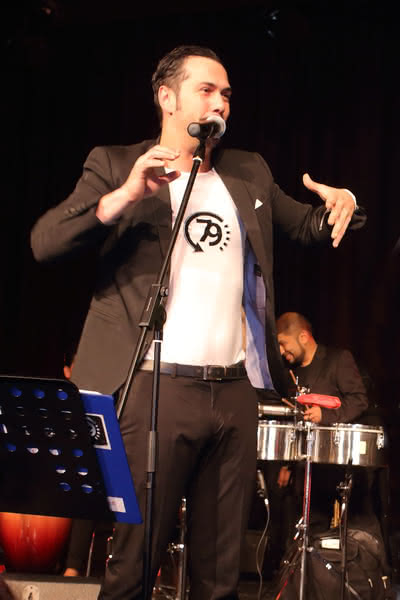 What is for you Cuban music?
Cuban music is where everything was born. If there is one country that can proudly say that they invented everything we dance and listen to today, it is the island of Cuba.
What we play today is basically what was played in Cuba in the 40s and 50s. New York and Puerto Rico re-played many of these songs in the 1970s with a style that still many dancers ask for today. But all the rhythms are born there, of course, some with American influences, but Cuba is where the Latin music was born that we dance to today.
After the embargo, the Cubans changed their way of making music and we can see the outcome of it today with Timba music, which is a completely different style considering the music that was played only 50 years ago.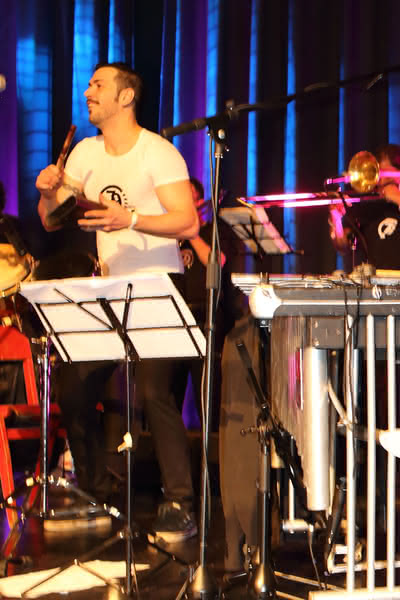 Who are your biggest inspirations?
Ah, I have many! Jonathan Somoza, several dancers like Fernando Sosa, Johnny Vazquez (whom I collaborated with on his last three songs together with our musical director and pianist Tony Velardi: Azafata, Paparrin and Loco) and Juan Matos.
The musicians that inspire me the most are: Ray Perez, Tito Rodriguez and Orquesta Reve (with Elio Reve Matos). One of my biggest inspirations as a DJ is DJ Mauri who lives in Athens (Greece).

Which Orchestras are your favourites?
I love big Orchestras, without music there would be no dancing, nor dancers. My favourite Orchestras which I have seen live are the one by Willie Colon, Oscar D'Leon, Larry Harlow and Cheo Feliciano. I am fortunate enough to have met them all in person.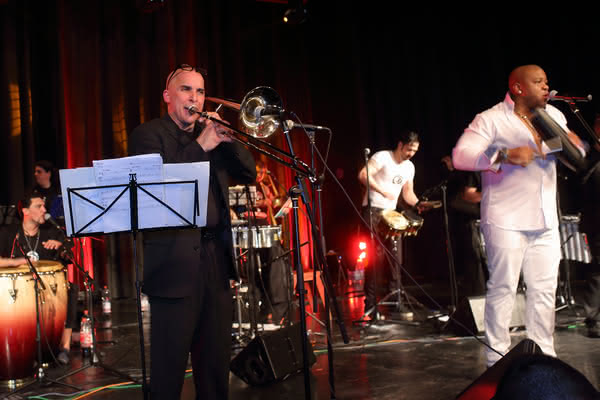 La Maxima 79 con Jimmy Bosch, 2016 en Frankfurt
Lets talk about La Maxima 79. The music of your Orchestra is very popular. As a band, what style of Salsa do you play?
I´d say that we incorporate a lot of cuban rhythms in to our music, although people think the complete opposite! We play a mix of Mambo, Guaracha, Guaguancó, Cha Cha Cha, Ritmo Changui, they are all Cuban rhythms... Guaguancó is super important to me like Son and other styles we put into each song. We'll probably do Timba one day because many members of my band have a "Corazon timbero".


In 2016 you played with Jimmy Bosch. How did that happen? Tell us about your experience with him.
It was a great honour to play with a musician of such calibre, it doesn't happen every day. He made Salsa history. We greatly admire him, he is an incredible professional, magnificent person and tremendous musician.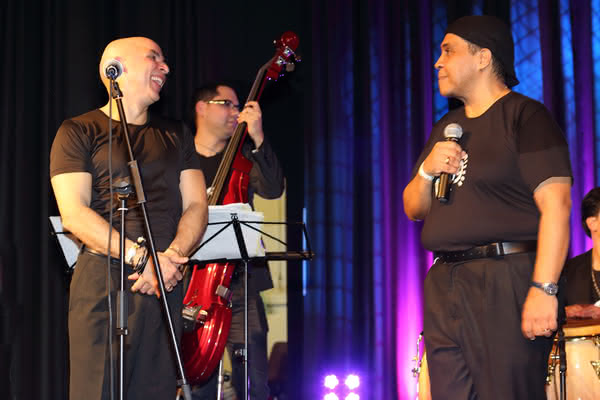 Do you have many collaborations with other artists?
Certainly, I do! I have my own record label called Smayra Publishing (which includes Abanico Records by DJ Alexio and Tripeo records by Christian "el Alkimista"). We produce many artists in Salsa, Bachata and Urban.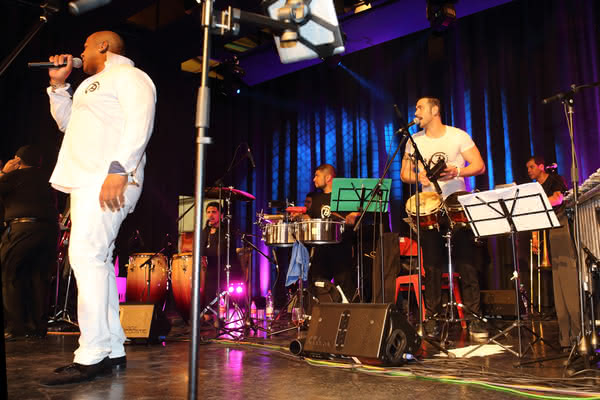 Talk to me about the musical director of La Maxima whose name you mention a lot in your songs: Tony Velardi?
For me, simply the most important pianist of Salsa music in Europe. There might be musicians that are technically better, but the heart he puts into playing Salsa, gives life to music and he reaches your soul even if you don't understand or know anything about Salsa. He is a great musician. Thanks to him we have many successful songs that came out of his hands.
La Maxima 79 publishes all their songs for free on YouTube, other groups only publish their songs on paid platforms. Do you think that the music is more accessible this way?
If we didn't publish it, there would be others who would do it for free, probably with less quality and without giving any credit. Free music is something unacceptable and uncontrollable, but the truth is that if it wasn't for YouTube our music would not have been able to travel around the world and reach the hands of those DJs that I always thank for playing our music and spreading it to the salsa fans.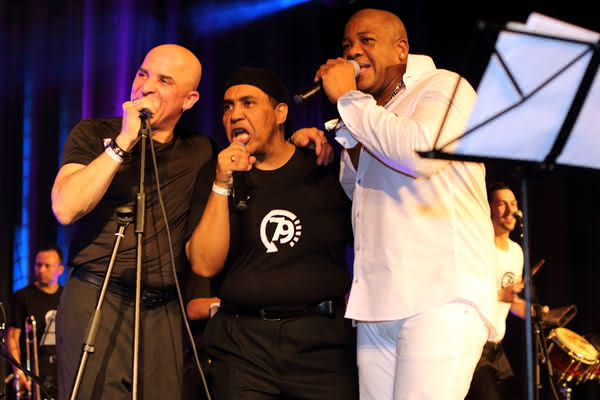 La Maxima 79 con Jimmy Bosch, 2016 en Frankfurt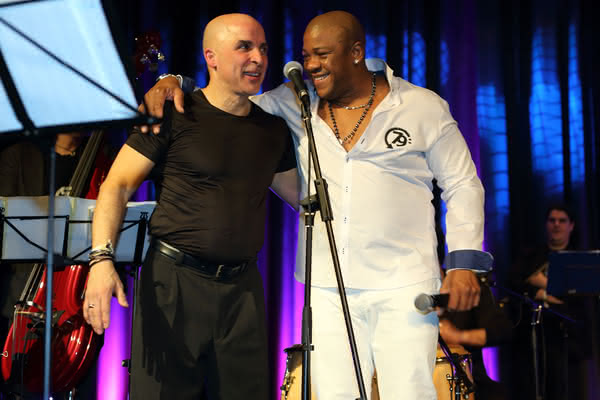 La Maxima 79 con Jimmy Bosch, 2016 en Frankfurt

You are also immensely popular as a Latin DJ in Europe. Tell us about your beginnings?
I was a fan of house music and in that genre the DJ has a primary role. It's the DJ's name that attracts people to the event. I would go dancing and my eyes were always on the DJ console. When I got into Latin music, I wanted to bring the same concept to Salsa. But very quickly I realized that in salsa, it is the dancers that attract people to an event, not the DJ. Some do come for the DJ, but it is very different to house music. And also, what a Salsa DJ gets paid vs a House DJ's.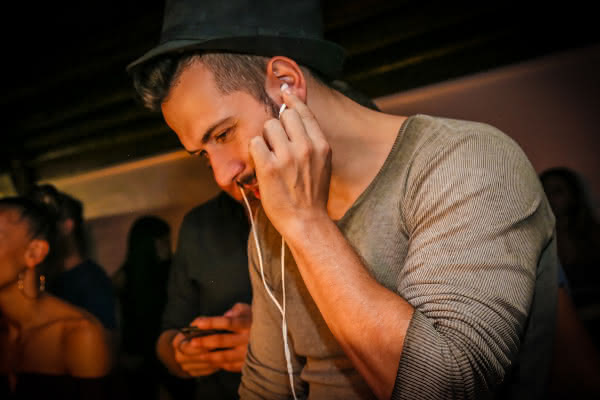 You are the producer of iLatin which is one of the best compilations out there, how did you come up with this idea?
iLatin is the first compilation of a chain that has that name, similar to the one called Latino and the idea is to fill the void that Latino left when they stopped producing it.
This compilation was a joint collaboration with DJ Alexio who is doing another project called Bachata Sensual.
The idea came about because we had a lot of singles that didn't have an album and we decided to put all this in the iLatin compilation, which has Salsa of all styles, Bachata and Cha Cha Cha.


How do you feel about Salsa productions coming from Europe at the moment?
Very important european orchestras are composing great Salsa songs and exporting them to places where Salsa has been around for 60 years. This helps other musicians to believe in themselves and their dream of forming their own band, new albums, new ideas and all this helps develop the salsa movement in general.
Let's say that Europe can be the new America for Salsa if we know how to play the game well, this is already happening with the dancers, let's see if it is the same case for music.
Can you name three of your favourite Deejays?
I won´t give any names. I respect everyone who has knowledge about music and plays for a crowd. The newbies too. I am always keen to help beginners because I remember when I started, and many doors were closed by the established DJ´s. Those few people who helped me to put a foot in the door still have my respect and admiration.
The DJ's that I helped kick off their career's years ago, are successful today. An example is Alexio de Turin, who today is recognized worldwide. He plays awesome music and is in high demand at a lot of congresses.


Is it easy to be a DJ in a city where most of the best salsa dancers live?
Being a DJ in Milan where many artists live is not easy, there are the same difficulties that other DJ's have but to a much bigger scale. We have Social Nights on a Wednesday with over a 1000 people, that is very difficult to find in the world.


Being mainly classified as a Salsa DJ, what does it mean for you to work with another genre like Bachata?
I am labelled as an On2/LA style Salsa DJ, but the truth is that I love Bachata. I was the first one in Italy to interview one of my favourite bachata groups Aventura before they were famous. I also taught Dominican Bachata 15 years ago and had the opportunity to work with many artists.
As a record label we actually worked with Grupo Extra, Marco Puma, Kewin Cosmos, Mr. Don, Marc, and a group of young Dominicans living in Italy who will be very successful in the future and remember this name: J-Style.

Do you see differences on the dance floor overseas when you travel?
I see a lot of passion to learn, but I also see something that was breathed in Italy 20 years ago. For example, the Salseros especially from Asia. To them it doesn't matter what Salsa you play, they dance to everything, always with a smile and this is lost a little in Europe.

Tell me three salsa songs you love.
Oh, I'd say El Doctor by Tito Rodriguez, Soneros Somos by Los Dementes, Chapeando by Los Van Van.


Name three Salsa albums that are in your top 10.
Tito Puente's Mambo Birdland, Rey del Bajo by Bobby Valentin's Bass, Contra la Corriente by Marc Anthony


Lastly, what would you like to say to all the readers of this interview?
I sincerely thank everyone for their support, and don't hesitate to approach the DJ on a Salsa night and ask him to play a song from La Maxima… any song, haha.

Thank you from the bottom of my heart
Fabrizio Zoro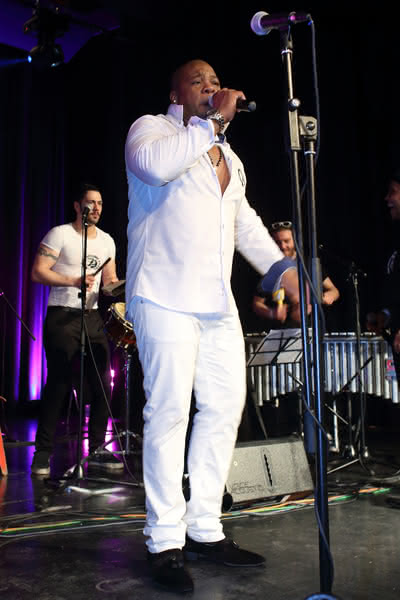 La Maxima in Concert
Video del Concierto: La Maxima 79 Y Jimmy Bosch:
La Maxima 79 en Vivo con Jimmy Bosch @ Frankfurt 2016
Translation: Meri Jankuloska