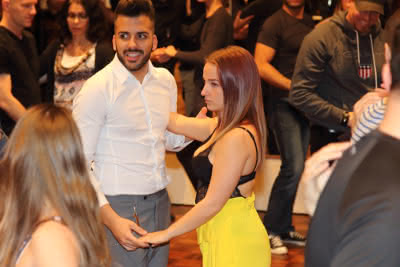 Yesterday I had the pleasure attending a really nice Bachata-Workshop from Victor and Cristina. They were studiend with a lot of famous Bachata Teachers and teach for years now on congresses worldwide. Both, 21 and 22 years old, show the new direction of Bachata, that is fastly evolving from Bachata Sensual to a more danceable and fusionlike crossoverstyle. Mixing modern elements of Cuban Salsa and Crossbody-Salsa into modern Bachata.
This new Bachata it's very enjoyable and it is fun dancing sexy and skillfull at the same time!

After the workshops, both of them were available for countless social dances during the whole party and some of the dancers were surprised by the high skills also in salsa. Which is no wonder, as they are active participants in the "Mambo-Touch-Team-Malaga". A Project of the great Bersy Cortez and Noelia Delgado, which is a kind of master class exclusively for dance teachers.

The highlight of the evening was their performance with the current Bachata programme 2018. The audience appreciated it very much. After a long applause, they asked for an encore to the show and Victor and Cristina improvised a social dance which, thanks to his perfect interpretation of the music, almost looked like a studied show. Wow, they are real professionals:)
So, here are some linked videos from that Workshop at Conexión in Frankfurt.


Videos: Victor & Cristina
All my videos can be found in my Youtubechannel Salsainfo.org. If you like my videos please share my channel :) Thank you!

Workshop Bachata @ Conexión Frankfurt 2018
Socialdances: Bachata, Cuban Salsa
Show @ Conexión FFM 2018 (Unexpected Encore / Improvisation)
 
Here a Video from last year from Mabo-Touch Malaga with Victor, Cristina, Bersy Cortez & Adolpho Indacochea in Benidorm 2017.